Rental Properties (2 Properties)

USD
2 Beds | 2 Baths | 126.05m² | 1356.8ft²
Your beach vacation rental in Panama is here! The Founders condominium located in Playa Blanca and offers the very definition of luxury with 1,200+ square feet of gorgeous, elegant space with spectacular views.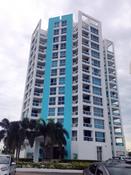 USD
2 Beds | 2 Baths | 133.75m² | 1439.69ft²
Brand new, beautifully decorated two-bedroom condo with a large, airy balcony, sweeping views of the magnificent Panamanian coast, and easy access to the beach.